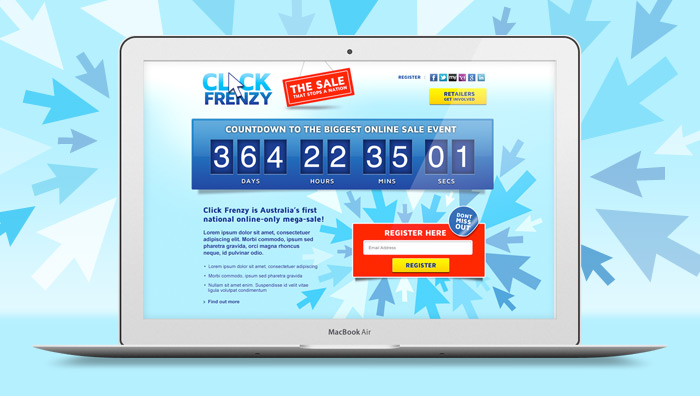 Power Retail is incredibly excited to be launching Australia's first annual online-only mega-sale, Click Frenzy. For 24 hours on Tuesday, November 20, online shoppers and retailers are going to witness an amazing single day sales event across categories. Get on board!
Heard about Cyber Monday? Meet Click Frenzy – Australia's first landmark annual online sales event, bringing together hundreds of online retailers for a 24-hour mega-sale, with bargain-hunting online shoppers able to access one-time amazing offers pre-Christmas rush.
Tuesday, November 20, 2012, will launch the first online sale that stops the nation, two weeks after the Race That Stops The Nation, the world famous Melbourne Cup.
Created by Power Retail, Click Frenzy is inspired by the phenomenally successful Cyber Monday in the US.
Cyber Monday was launched in 2006 by the American e-commerce industry via Shop.org as a way for online retailers to capitalise on the Thanksgiving Holiday 'Black Friday' phenomenon. Black Friday (following the Thanksgiving Day feast on the last Thursday in November) is the biggest retail sales day on the US calendar. Now, Cyber Monday (following that weekend) is the biggest online sales event in the US, growing explosively every year.
Now it's Australia's turn. With online shopping surging more than 20% every year in Australia, this is going to be the biggest digital sales event yet.
We've already had a great amount of interest from retailers in the idea, and this marks the first overt publicity. You only need to look at the staggering statistics below from Cyber Monday to understand the potential of Click Frenzy. Shoppers are definitely ready, and this will be a massive kickstart to the Christmas shopping period for retailers.
How it works
Click Frenzy centralises the absolute best online deals in one location for one frenzied 24 hour period. Customers can search for deals across a user-friendly online marketplace built to withstand an enormous number of visitors. Search by category, brand, product name, item or just browse the unbelievable range of deals to be had. Both shoppers and retailers in Australia have never seen anything like Click Frenzy, and all will benefit. The site has been designed by Rysen, with hosting services provided by UltraServe.
To anyone who doubts online retail, this will prove beyond a shadow of a doubt the power of the internet to move shoppers. We're aiming to set a record volume of online transactions for a single day, and we will have some amazing statistics to show after the frenzy ends. There's no percentage taken from retailers' sales – we want to make this as affordable as possible to maximise participation and profits for the retail community.
What we're really excited about is kicking off at 7pm to capitalise on the new wave of couch commerce – the 'lean-back shopper' armed with an iPad browsing and buying while the TV's on.Australian shoppers are definitely ready for an iconic online retail sales event. If the phenomenal success of Cyber Monday is any guide, Click Frenzy will be a spectacular milestone in Australia's short but dynamic online retail history.
Source: Grant Arnott, Power Retail (http://www.powerretail.com.au/news/click-frenzy-australias-answer-to-cyber-monday/)