Digital Pacific is an Australian Web Hosting, VPS, Dedicated Server, Domains and Web Services provider. Part of the larger Hostopia Australia group, Digital Pacific is one of the largest hosting businesses in Australia, currently serving over 25,000 Australian businesses and hosting over 300,000 business websites each day.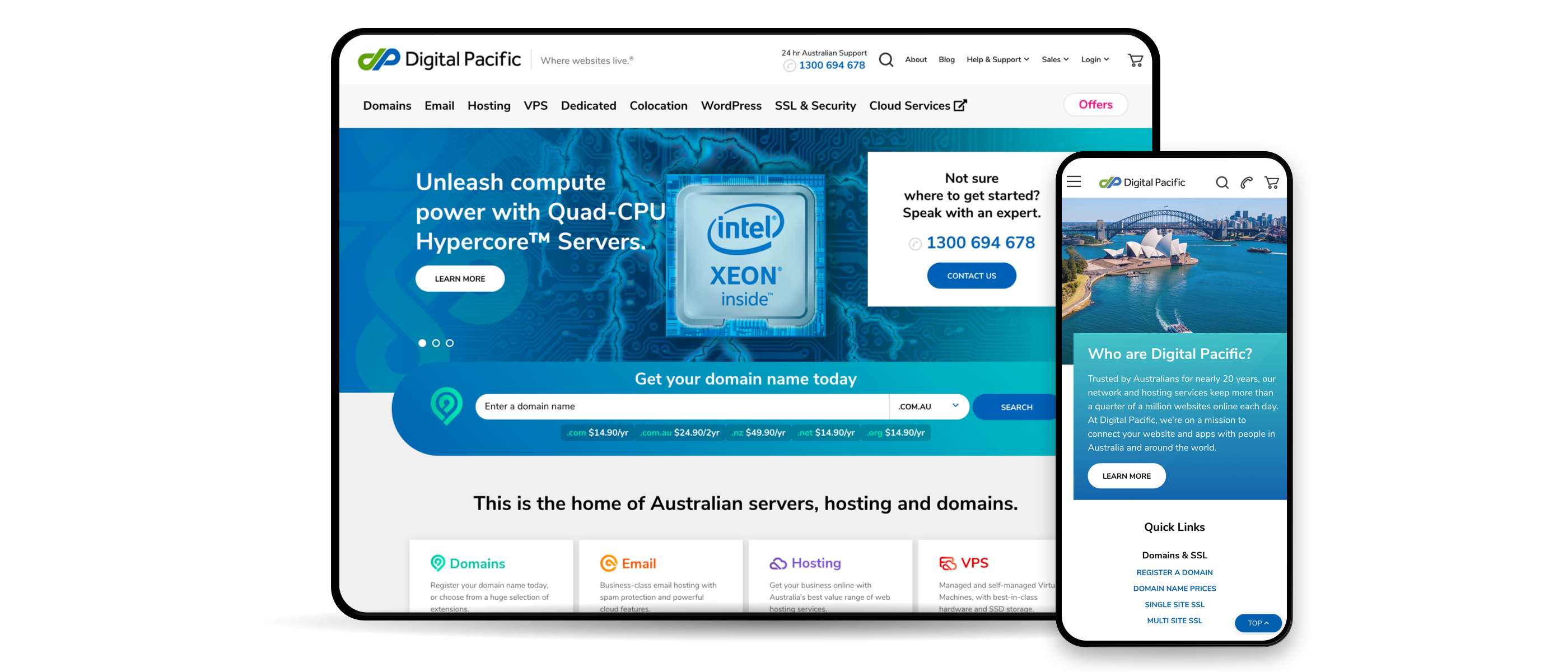 Challenge
The old website had been experiencing a steady decline in conversion rates since 2017, due to other emerging providers and changes in the way that customers purchase hosting products. Having been in the market since 2013, it required a complete overhaul to meet the team's overarching project objective:
"To go to market with an industry leading site, which promotes our growing product portfolio and leverages our extensive brand equity, driving a conversion rate uplift by at least 50bps".
The new Digital Pacific site needed to set them apart from the competition, both visually and functionally. As a company synonymous with a very high level of service and expertise, the new site needed to reinforce this reputation, promoting their proudly Australian based brand and their 100% Australian customer support. They needed to be able to effectively manage and promote both their existing and new products while retaining a focus on their key products – web hosting and servers.
Digital Pacific invited a number of leading digital agencies in Australia to pitch for the design and build of the new website. Rysen was appointed as the successful agency.
Solution
After undertaking a thorough strategy phase, encompassing industry and competitor research, customer and employee interviews and UX journey mapping workshops, Rysen rolled out a responsive website solution smart enough to manage and display multiple, complex products, flexible enough to appeal to Digital Pacific's varied user base of both traditional and tech-savvy customers, and scalable enough to meet all ongoing business needs.
We created a vibrant new colour palette for the brand, incorporating a number of different tones, gradients and unique design elements.

The carefully

structured homepage enables users to explore the product range, by first defining what it is that they want or need out of that product.
The category pages offer new product tables that are informative, clearly laid out and fully responsive, transforming across Desktop, Tablet and Mobile to ensure a seamless browsing and purchasing experience regardless of device.
The brand values and story are intertwined throughout the site, with new brand modules highlighting Digital Pacific's Australian roots and customer-centric service approach. On the homepage, an interactive 'hero' module sporting custom designed graphics highlights the key company USPs.
Results from the new site to date include a 14% increase in conversions, 27% increase in session time, 13% reduction in support tickets and an overall brand NPS increase from 56 to 60.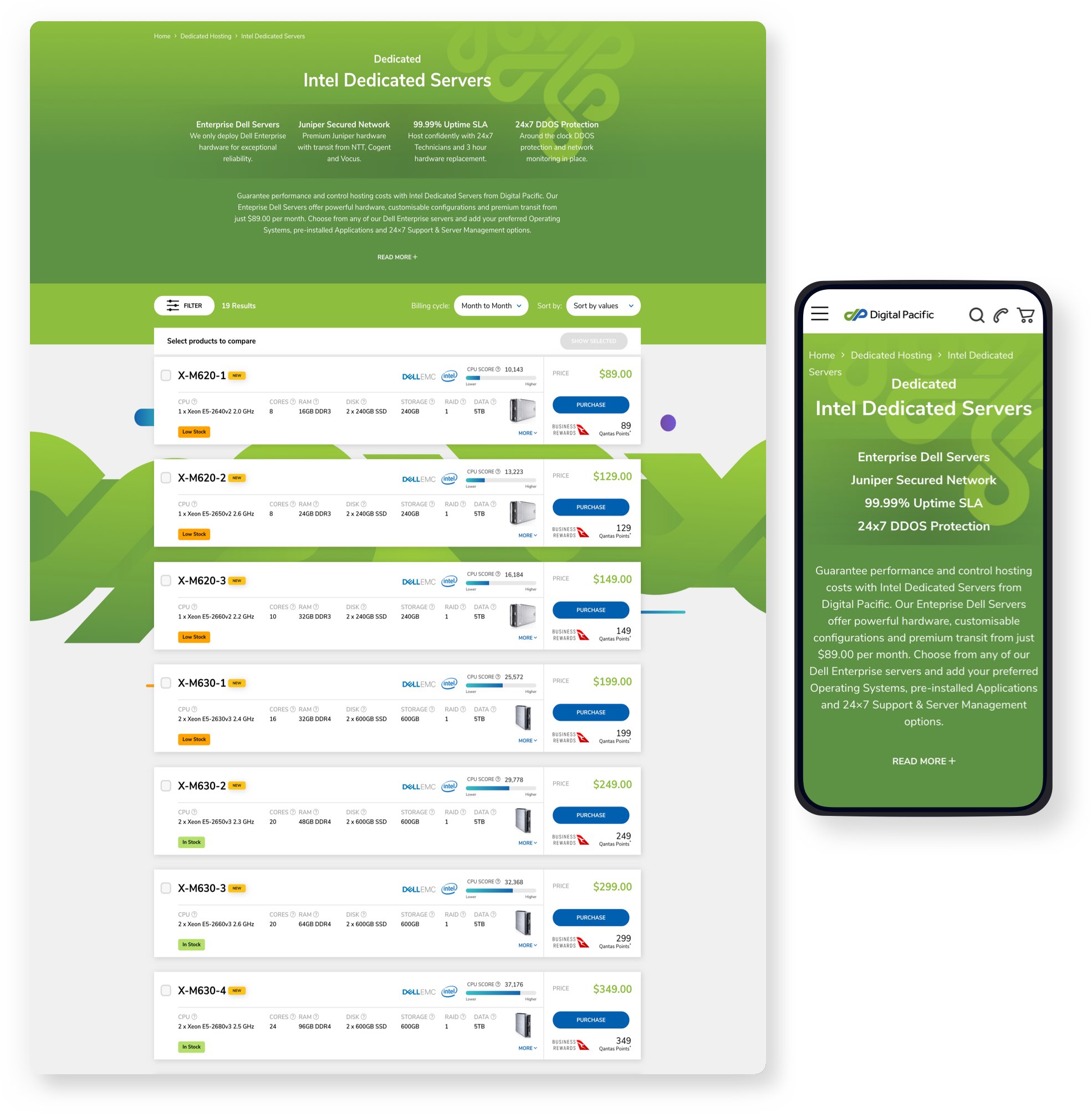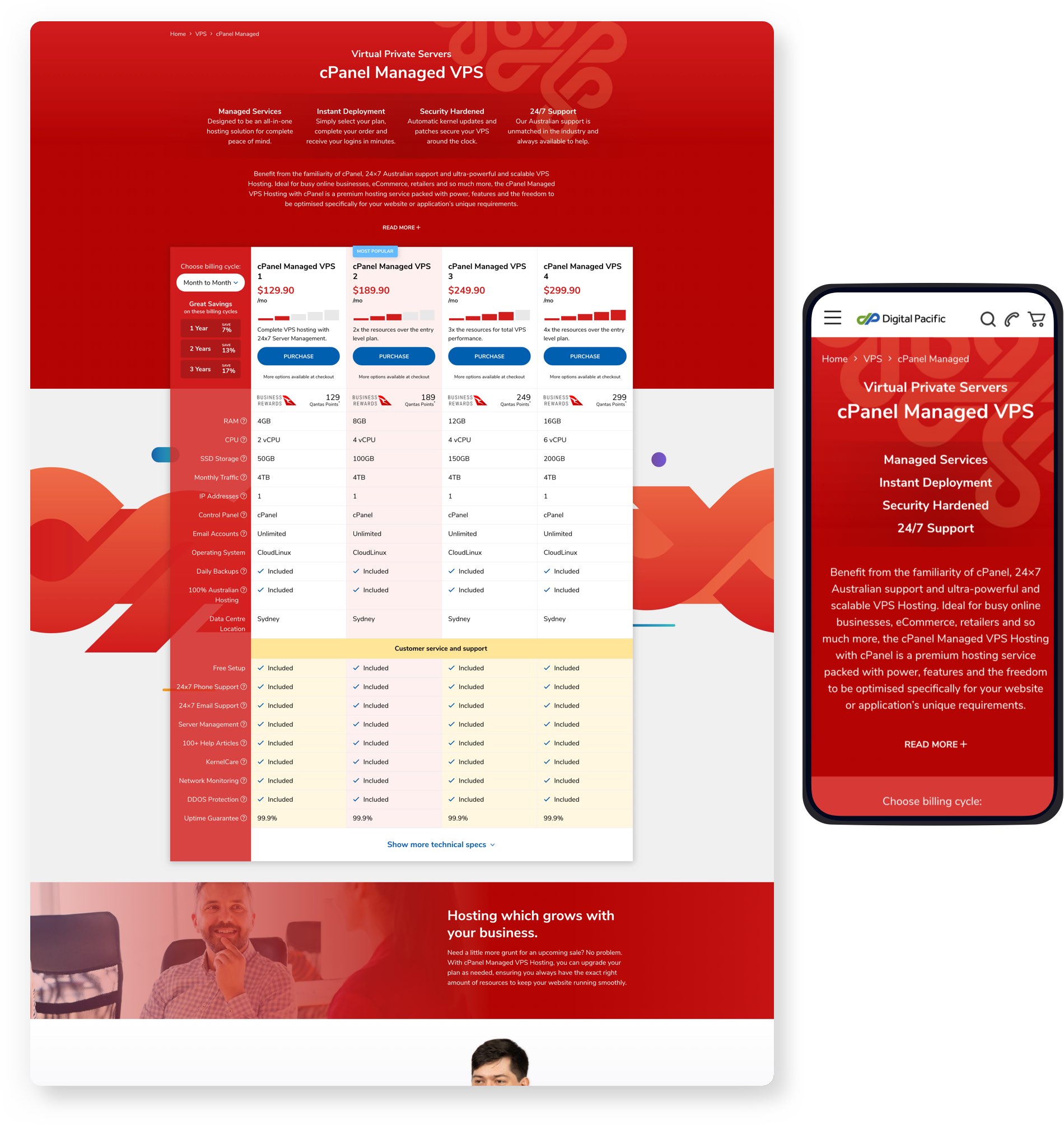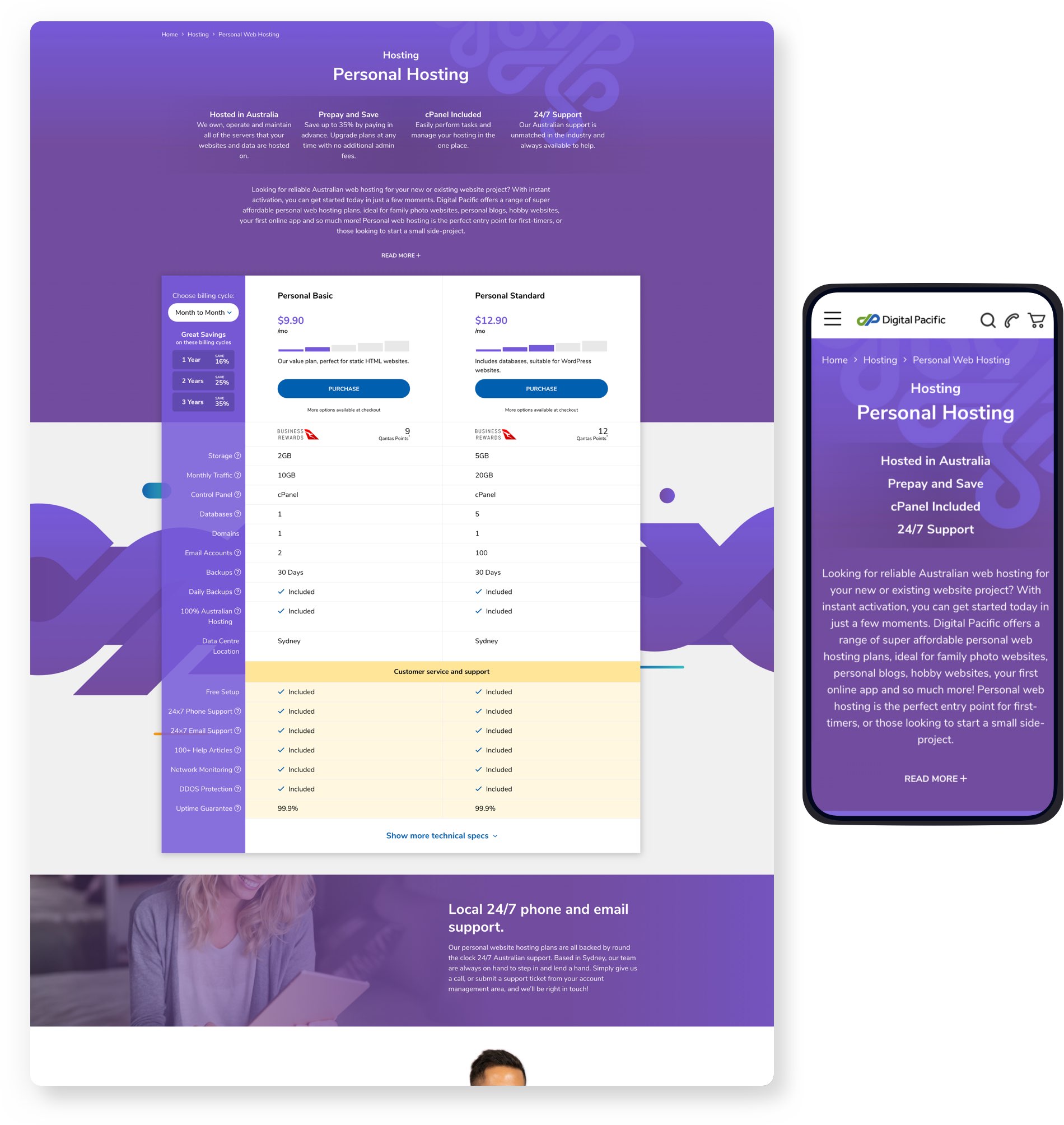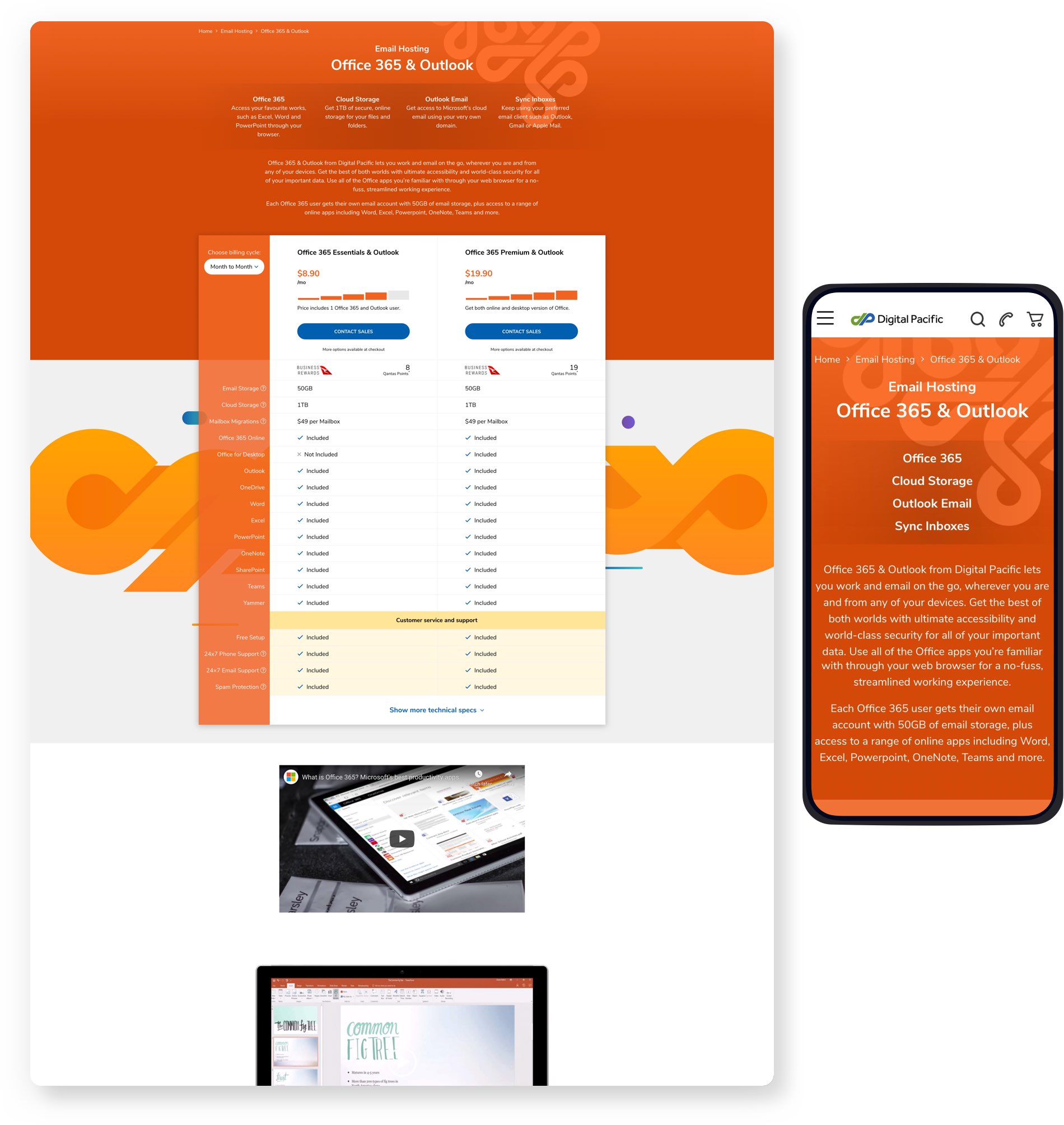 Results
14%
Increase in conversions
27%
Increase in session time
13%
Reduction in support tickets
+4
Overall brand NPS increase
I've had the opportunity to work with Rysen across various digital projects. In my view they have a strong reputation for consistency, build quality and design. Their project management competency puts my mind at ease and they are always a pleasure to work with. When showcasing their work to colleagues and industry contacts, Rysen's work is always highly commended.
Hendrik Kruizinga Hostopia Australia, Product & Marketing Manager