The aim of this article is to help demystify 'user experience' (UX) and share one proven process we use at Rysen to help our clients delight their customers and grow their business.

Since 2006, Rysen have had the privilege to work with businesses to improve their user experience online and delight their customers. From multinationals like Woolworths Group and Luxottica Group, to small-to-medium enterprises (SMEs) like Mortgage House and King Living and many small startups.
User experience (UX), customer experience (CX), digital experience (DX) and many other buzzwords are commonplace in our industry. We have found that there is often confusion and misunderstanding of what UX is and how it can add value to businesses.
We are riding the wave of the ever-changing UX landscape and helping to guide our clients with the latest strategies, technologies and creative innovation to deliver tangible results.
Over the years we have refined our UX process and tools. Today, we are able to deliver value and results to our clients quickly and effectively through a collaborative and engaging process.

The three proven UX tools we use to deliver value to our clients are:
Empathy Mapping

User Journey Mapping

MVP (Minimum Viable Product) Story Mapping
TIP: For the best results, run through these three UX tools in succession in a single session, including key client stakeholders. It has been our experience that one 2-4 hour UX workshop will yield immeasurable insights and value for the life of the project.
Step 1: Empathy Mapping
Through the use of data and research, we help our clients define their target audiences and build personas. Helix Personas by Roy Morgan Research is a great source of geo-digital psychographic segmentation data to help bring personas to life (http://www.helixpersonas.com.au/).
Empathy is central to good user experience design. An empathy map is a collaborative tool teams can use to gain deeper insight into their customers. It helps our team to step into the shoes of the customer and see and feel the world from the customer's perspective. The empathy map is both a framework and a technique pioneered by leading design thinker Dave Gray in his 2010 book 'Gamestorming' A Playbook for Innovators, Rulebreakers & Changemakers (http://gamestorming.com/empathy-mapping/).
At Rysen, we use the Empathy Map template as shown below. To get the most value out of the exercise, we recommend all project team members participate in the empathy mapping exercise. If clients are available, their participation is invaluable.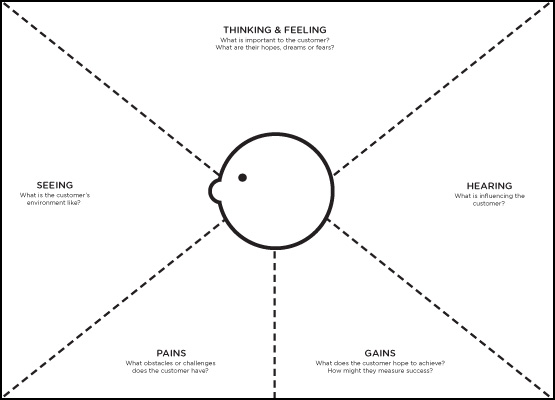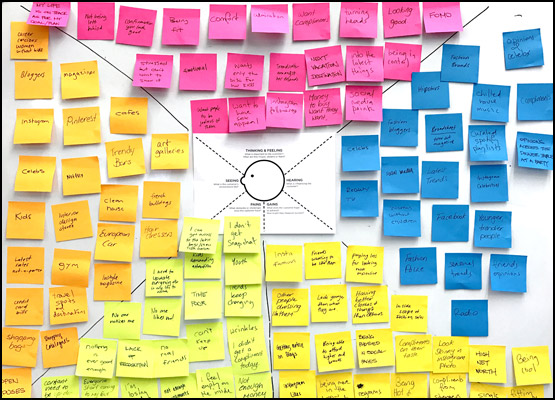 We typically time-box each of the five empathy map segments to 5-7 minutes each. This will result in the completion of an empathy mapping exercise in 25-35 minutes.
INSIGHT: Empathy mapping uncovers both potential gains that the users are looking for and the pains they want relief from.
EXAMPLE: For Australia's leading non-bank lender, a simple but powerful distinction Rysen gained through an empathy mapping session was the following. In the pursuit of the great Australian dream of home ownership, a persona's goal was not to attain a 30-year debt instrument called a 'mortgage'. Rather, the persona's goal was to attain a lifestyle and make their dream a reality. This customer-centric perspective laid the foundation for an award-winning website and customer experience.
Step 2: User Journey Mapping
A user journey map is a visualisation of the process that a person goes through in order to accomplish a goal, such as buying a product or researching a service online. The map tells the story of the user's experience. From the initial trigger through to the process of research, engagement and potentially into a long-term relationship. It is used for understanding and addressing customer needs and pain points. Through collaboration with stakeholders, a shared vision of the ideal user experience can be crafted.
To get the most value out of the exercise, it is critical to involve key client stakeholders and client 'subject matter experts' such as members of the operation, marketing, sales or customer service teams. We also recommend all project team members participate in this collaborative deep-dive activity.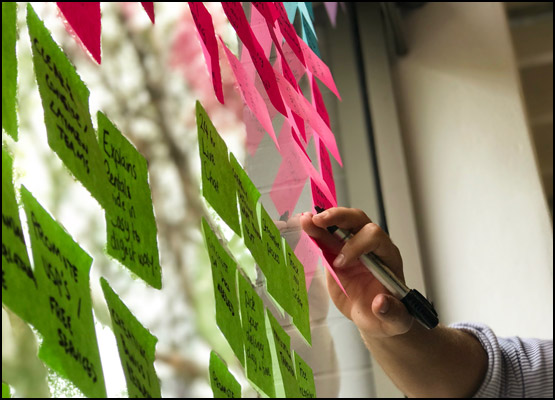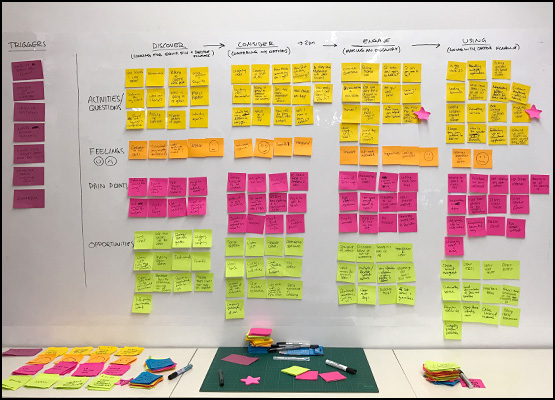 We typically time-box each of the 21 user journey segments to 3-5 minutes each. This will result in the completion of a user journey mapping exercise in 1-1.75 hours.
INSIGHT: The visual nature of user journey mapping makes it easier to identify potential holes in the journey and new opportunities to delight the user's experience.
EXAMPLE: For Australia's largest retail brand, a key insight Rysen gained through a user journey session was the following. By streamlining product categories and reducing key friction points during the checkout process, we were able to deliver an increase in online sales of over 200%.
Step 3: MVP (Minimum Viable Product) Story Mapping
Minimum Viable Product (MVP) can be described as a product built from the smallest set of features that delivers customer value. MVP was first articulated by engineer Frank Robinson in 2001 (http://www.syncdev.com/about-syncdev/management-team/).
Story Mapping is a planning technique developed by leading agile practitioner Jeff Patton (http://jpattonassociates.com/user-story-mapping/). The concept of Story Mapping is to replace the traditional one-dimensional list of features ordered according to business value with a two-dimensional map. This focuses on user activities and the overall vision of the product.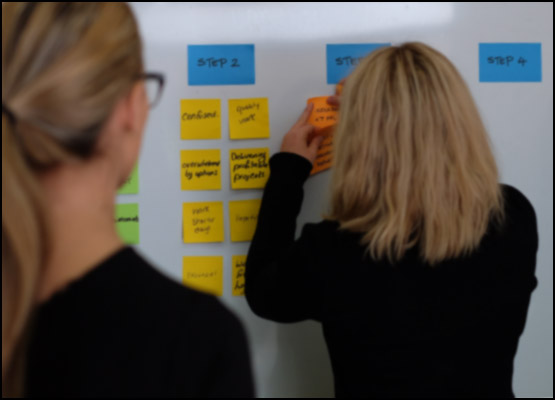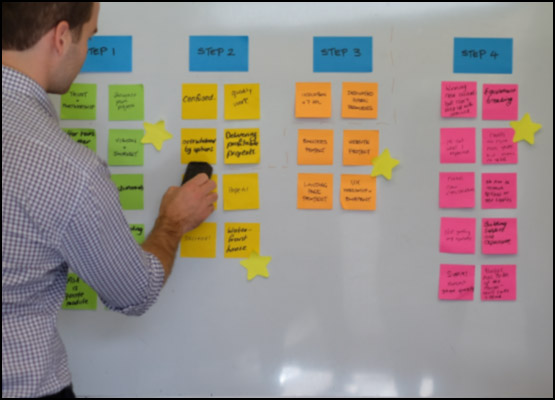 The first two UX tools, empathy mapping and user journey mapping, help with the strategic discovery and exploration of a project. The third UX tool, MVP story mapping, is a planning tool that helps prioritise project features and define project scope. This part typically takes 20-30 minutes to complete, depending on the complexity of the project
INSIGHT: Specific features identified during the Empathy Mapping and User Journey Mapping can be directly brought across and used for the MVP Story Mapping.
EXAMPLE: For a telecommunication company with Australia's best Net Promoter Score (NPS), a strategic plan Rysen developed through the MVP mapping exercise was the following. By designing website functions in a modular framework, four websites could be deliver simultaneously ahead of schedule.
This stated process, using the three UX tools has helped deliver multiple industry awards for multiple leading Australian brands. More importantly it has allowed our clients to delight their customers and as a result, grow their businesses.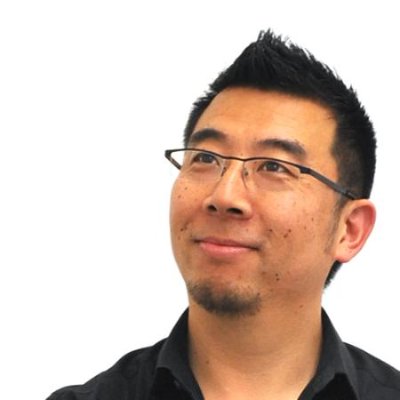 Written by:
Ryuji Uematsu - Managing Director
A forward-thinker by nature, Ryuji's vision is motivated by his experience and ingenuity. Having worked at the forefront of digital design for many years, Ryuji brings with him the determination to generate powerful and innovative solutions.